Closest airport

Ålesund Lufthavn Vigra
You can rent a car at the airport.
Aprox. 2,5 hours drive from the airport to Geiranger. 
Fjordcruise from Ålesund – Geiranger
Geiranger Fjordservice offers transport by boat from Ålesund town center to Geiranger. The tour takes approx. 3 hours and is a very beautiful tour. For timetible and booking:  https://www.geirangerfjord.no/...
Routes to Geiranger with a car during Winter: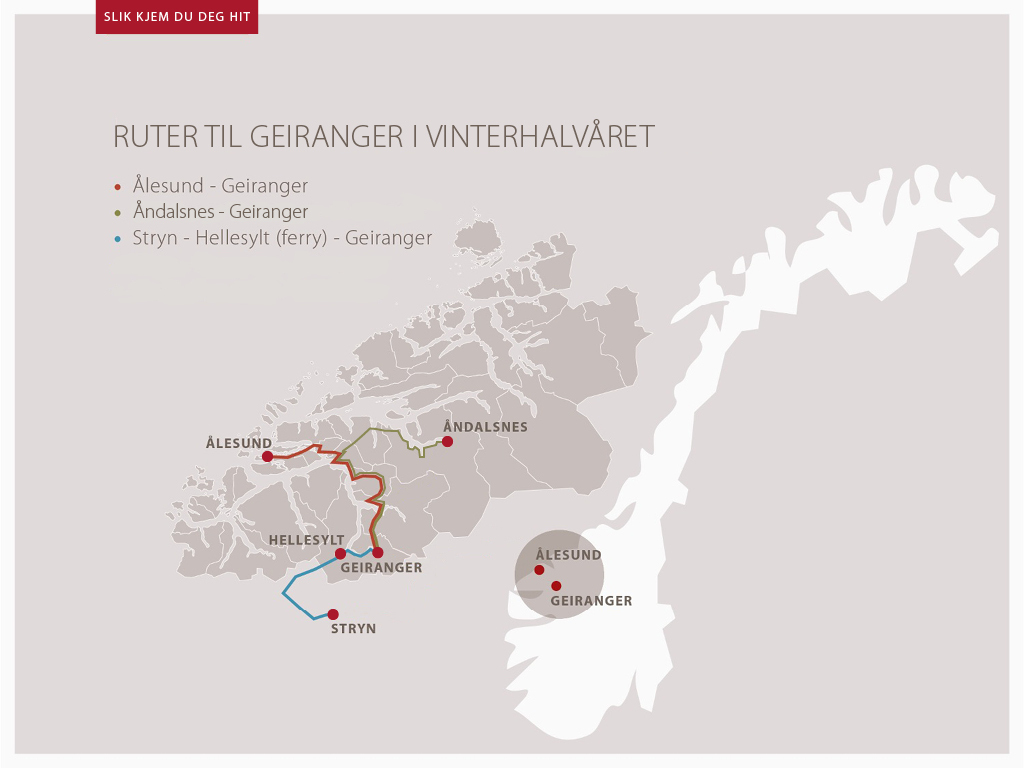 Oslo
Option 1:Follow E6 to Dombås, then take E136 to Åndalsnes continue to Sjøholt. From Sjøholt you will follow route 650 to Linge and take the ferry over to Eidsdal. From Eidsdal you will follow route 63 over the mountain to Geiranger. This road is open all year. Estimated time from Oslo to Geiranger: 10 hours. (ref. Google Maps)

Option 2: Follow E6 to Otta and the follow route 15 to Stryn. From Stryn you will follow E39 and route 60 towards Hellesylt. From Hellesylt you can take the ferry to Geiranger. Estimated time: approx. 8,5 hours. (ref. Google Maps)
Trondheim
Option 1: Follow E6 to Dombås, then take E136 to Åndalsnes and further on to Sjøholt. From Sjøholt you will follow route 650 to Linge and then take the ferry to Eidsdal. Continue on route 63 over to Geiranger. Estimated time: approx. 7 hours. (ref. Google Maps)

Option 2: Follow route E39 to Molde, take the ferry over to Vestnes and continue on to Sjøholt. From Sjøholt you will follow route 650 to Linge and then take the ferry to Eidsdal. Continue on route 63 over to Geiranger. Estimated time: approx. 7 hours. (ref. Google Maps)
Bergen
Follow route E39 via Førde to Stryn and continue to Hellesylt via route 60. From Hellesylt you can take the ferry to Geiranger all year, but during winter there are only 3 departures. Estimated time: approx. 9 hours. (ref. Google Maps)
Routes to Geiranger with a car during summer: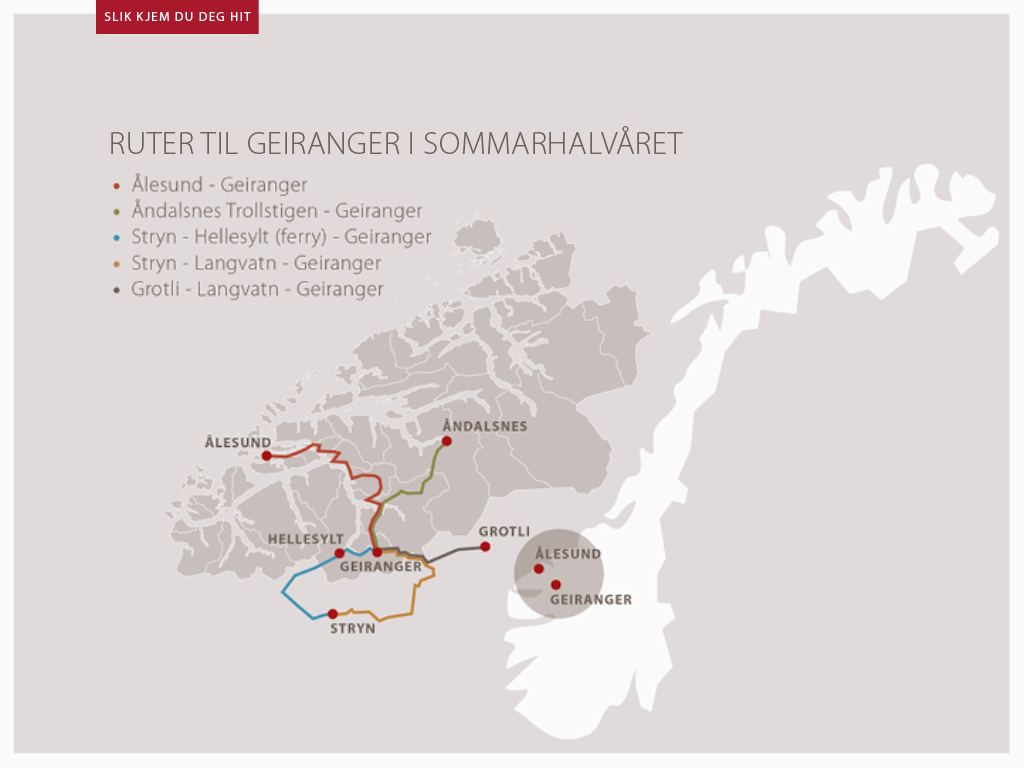 Oslo
Follow route E6 to Otta, then continue on route 15 towards Stryn. Before you get to Stryn you should take route 63 from Langvatn to Geiranger. 
Estimated time: 6 hours. (ref. Google Maps)
Trondheim
Follow E6 via Dombås to Otta and continue on route 15 towards Stryn. Before you get to Stryn you should take route 63 from Langvatn to Geiranger. 
Estimated time: 6 hours. (ref. Google Maps)
Bergen
Follow E39 to Stryn and continue on route 15 towards Langvatn. Then continue on route 63 towards Geiranger. Estimated time: approx 7 hours. (ref. Google Maps)